Our Milestones
From the forging of sabers and sickles to competence centre for development and production of components for overhead line transmission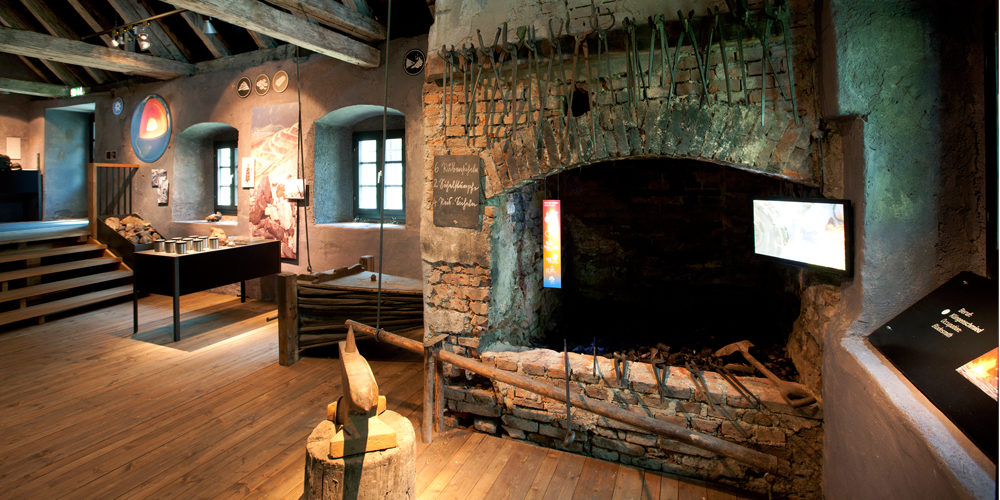 As early as in the 14th century, the company active under the name of "Mosdorfer" since 1712 was mentioned as a smith's shop on the Weizbach. In the middle of the 18th century, Mosdorfer almost obtained a monopoly for supplying the imperial army with sabres. When the production of blades ceased to be a field of business promising a secure future, Mosdorfer applied for the license to produce sickles. In the 19th century, yearly production of sickles reached its highest level with about 500,000 pieces. Even then Mosdorfer was a company that was active worldwide and exported its products to such countries as Turkey, Russia, Brazil or the US.
THE COMPANY MUSEUM MIGHT ALSO BE OF INTEREST FOR YOU:
www.dieklingenschmiede.at
1949
In 1949, construction of the 220 kV line Kaprun-Ernsthofen and the commensurate first order for fittings for overhead transmission lines meant re-structuring of Mosdorfer to a factory specialized in electrical engineering. Since then, Mosdorfer's key competence is the development and production of components for construction of overhead transmission lines.
.
1992
In 1992, Mosdorfer s.r.o. started its operations in the fields of aluminium casting and steel processing in Slovakia..
2008
When acquiring the Italian specialist in vibration dampers, DAMP Srl, in 2008, Mosdorfer moved to the world top in the field of fittings for overhead transmission lines.
In order to advance the activities on the Indian energy sector, Mosdorfer founded "Mosdorfer India" in 2008.
2012
The Knill Group and Mosdorfer celebrated the 300th anniversary in 2012
2018
The latest acquisition of Mosdorfer is the Slovenian company OTLM. The company OTLM was founded in 2009 and it specializes in the development and production of systems for monitoring and rating of overhead lines. In addition to measurements and rating, the company's main objective is line management.
2021
The expansion of Mosdorfer GmbH's rail division has taken a major step forward with the acquisition of the Pfisterer Group's rail division at the end of 2021. Now under the name Mosdorfer Rail, the company's product range includes an extensive range of overhead contact line and cantilever systems, customized rail insulators and a variety of clamps and connectors for metro, rail, and high-speed networks worldwide.